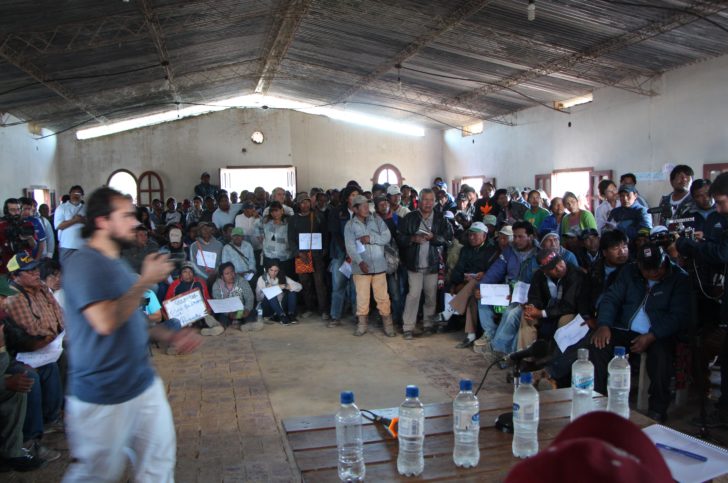 For the first time ever, the Inter-American Court of Human Rights made an on-site visit for a case involving the right to indigenous territory in Argentina. Judges Humberto Sierra Porto and Francisco Pazmiño Freire traveled to various areas of the territory claimed by the communities of the Lhaka Honhat Association of Aboriginal Communities.

The Inter-American Court judges visited several key places in relation to the conflict and were able to see how roaming livestock and the placement of fences by European-descended settlers within the communities' territory directly affect more than 10,000 people's way of life and customs. In addition, the members of the Court participated in an assembly of the chiefs of the Lhaka Honhat communities, with representatives traveling from different corners of the territory in question to explain the impact and transformation of their way of life provoked by cattle, deforestation and the placement of fences.

For years, this set of communities has been demanding a single deed without internal subdivisions in the name of all the indigenous communities that reside in former state parcels 55 and 14 in the district of Rivadavia, Salta province. Due to the Argentine state's lack of response, in 1998 the Lhaka Honhat Association – with CELS' sponsorship – lodged a complaint before the Inter-American Commission on Human Rights (IACHR). In its 2012 merits report on the case, the IACHR determined the state had violated the communities' rights and ordered the corresponding reparations. The state's subsequent incompliance led to the case being taken to the Inter-American Court of Human Rights.

The Inter-American Court's ruling could be a milestone for the indigenous communities of our country and the region. In Argentina, there are no mechanisms in place to guarantee the right to indigenous territory, and problems related to the lack of land titling are seen throughout the country. For that reason, we have asked the Inter-American Court for structural reparations that could mark a "before and after" for the reality of indigenous peoples in Argentina.