The National System's annual assembly analyzed the grave humanitarian situation in places of confinement and demanded justice for the victims of a fire in Police Station 3 of Esteban Echeverría, Buenos Aires province. Participants included representatives of the judicial branch and civil society, as well as family members of victims.
Six members of the Naval Prefecture were convicted of torturing Iván Navarro and Ezequiel Villanueva Moya in 2016. The national Security Ministry must stop the violence by security forces in the southern neighborhoods of Buenos Aires city.
The US ambassador to the UN said that her country's decision to abandon the Human Rights Council was partly due to the opposition of 18 organizations to the Council reform proposal backed by Washington. CELS, one of these organizations, responded to her.
The UN Special Rapporteur on torture, upon concluding his visit to the country, said that detention conditions in provincial police stations and prisons "severely contravene international standards and are incompatible with human dignity." He also denounced the "degrading" conditions in the Melchor Romero psychiatric hospital and police violence in low-income neighborhoods. At the same time, he urged the Argentine state to allocate "sufficient resources to ensure the timely processing and adjudication of the remaining cases and trials for crimes against humanity."
In the 163rd period of IACHR hearings, the Comisión Provincial por la Memoria (CPM), Center for Legal and Social Studies (CELS) and the Public Appeals Defender exposed the crisis in the system of confinement in the province of Buenos Aires and called on the provincial and national states to take measures to reduce overcrowding, overpopulation, inhuman conditions, lack of access to health, and torture in prisons.
The Argentine state's compliance with the Convention against Torture will be evaluated on Wednesday, April 26 and Thursday, April 27. CELS submitted a report to the UN Committee that carries out the evaluation and contributed to two reports produced with other organizations.
A hearing will be held before the Inter-American Commission on Human Rights (IACHR) regarding violence against the Nam Qom community in August 2002 and the lack of state response.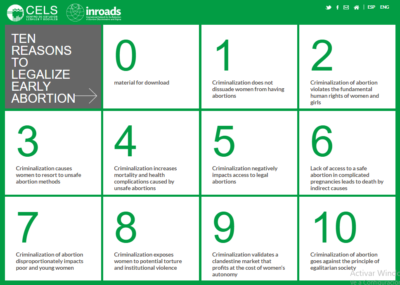 The Rules are a parameter for detention conditions worldwide. They were updated, for the first time in 60 years, with the objective of providing greater protection to persons deprived of their liberty.
On April 7, six agents of the Buenos Aires Penitentiary Service will be tried for the torture and murder of Patricio Barros Cisneros in the Unit 46 prison.
Author: Mental Disability Rights International (MDRI), Center for Legal and Social Studies (CELS)
86 pgs.
read more